Recipe by Robin Schellenberg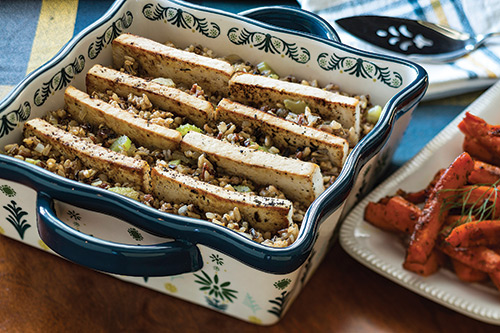 Try this healthier dish as a substitute for turkey and dressing.
 1 (14-ounce) package extra firm tofu, drained
1 cup wild rice
2 cups vegetable broth
1 teaspoon olive oil
½cup diced yellow onion (approximately 1 small or ½ medium onion)
2 stalks celery, thinly sliced
½ teaspoon sage
½ teaspoon salt
splash of soy sauce, Bragg liquid aminos, or low-sodium tamari sauce
1 teaspoon onion powder (to taste)
1 teaspoon garlic powder (to taste)
1 teaspoon thyme (to taste)
• Press tofu: Wrap tofu in clean dish towel and place on cutting board. Place something heavy, such as a pot, on top of it. (The weight of the pot will slowly press extra liquid out of the tofu into the dish towel. Pressing tofu is important because it ensures it will have the correct texture.) Let it sit while you begin cooking rice.
• In pot, bring rice and vegetable broth to boil, and cover immediately. Reduce heat to low, and simmer until all liquid is absorbed, approximately 30 minutes. With heat turned off, let it sit, covered, while you prepare vegetables and tofu.
• In nonstick skillet, heat olive oil. Sauté onion, celery, sage, and salt.
• When rice is finished cooking, add skillet vegetables, and mix together.
• Remove tofu from dish towel, and slice tofu into ¼-inch thick slices.
• Heat griddle or skillet over medium heat.
• Spritz or brush top of tofu with your choice of soy sauce, Bragg liquid aminos, or low-sodium tamari. (I use a spray bottle, but you can also brush or drizzle it onto the tofu.)
• Place tofu on the hot griddle, spritzed-side down, and spray the other side before sprinkling it lightly with onion powder, garlic powder, and thyme.
• Heat tofu until golden brown, then flip to brown other side.
• In square (1½-quart) casserole dish, alternate tofu slices and rice, neatly packed together (see photo).